calendar_month 04.05.2023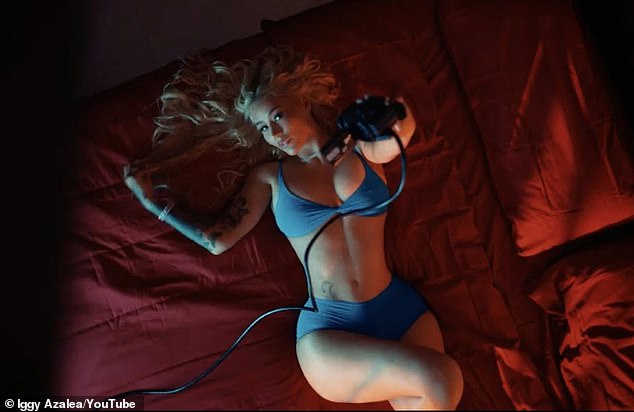 After joining OnlyFans in January, the rapper has now further intensified her involvement by releasing a sex tape on her official merchandise store.
It remains uncertain whether the VHS tape actually features sexually explicit acts or is simply a decorative piece of merch, but it has already sold out online.
Iggy was previously embroiled in a sex tape scandal in 2014 after the release of her chart-topping hit, "Fancy."
At the time, her ex-boyfriend, Houston hip-hop artist Hefe Wine, was negotiating with adult film company Vivid about potentially releasing the controversial video.
However, Iggy denied being the woman in the tape and rejected Vivid CEO Steve Hirsch's rumored six-figure offer to release it.
The Sydney Morning Herald reports that the rapper's lawyers also threatened to sue Vivid if they promoted the tape using Azalea's name.
Presently, Iggy is earning millions by sharing risqué content on OnlyFans.
She initially stated that she would never join the provocative platform, declaring in 2021 that she "didn't want to make that type of content."
Nevertheless, the "Black Widow" singer is now one of the most prominent celebrity creators on the site and is estimated to have earned well over $4 million since launching her account.
She currently charges subscribers $25 per month, but users must pay extra through upselling to access racier content.
By tipping the star $250, fans can become a "VIP" for 12 months, which includes one free exclusive photo and other unspecified benefits.
Recently, the star addressed critics of her OnlyFans endeavor after some argued her content wasn't risqué enough to justify the $25-per-month subscription fee.
Responding to a fan on Twitter, the musician clarified that she does pose nude on the platform but subscribers need to pay significantly more than the $25 entry fee to view it.
"Iggy, baby, please show more on your OnlyFans," the fan tweeted. "I'm tired of people complaining about your platform."
The "Fancy" hitmaker replied, "Anyone saying that is broke and hasn't unlocked the paid content because I pose nude."
She continued, "It's $25 entry, not $25 for full access. They thought wrong." She then shared a photo of herself showcasing her famous derrière in lingerie.
Iggy is currently one of Australia's wealthiest music artists, having sold her entire music catalog for an eight-figure sum to a private equity firm.
Daily Mail Australia has confirmed that Iggy's OnlyFans feed contains numerous provocative images and short clips of the hip-hop star, though no explicit sexual acts are included.